Last two weeks I worked as a Russian-English translator in Bangkok, Thailand as a part of the EXPO 2017 in Astana promotion campaign.  I had started working for EXPO 2017 in February and I had a number of assignments since then.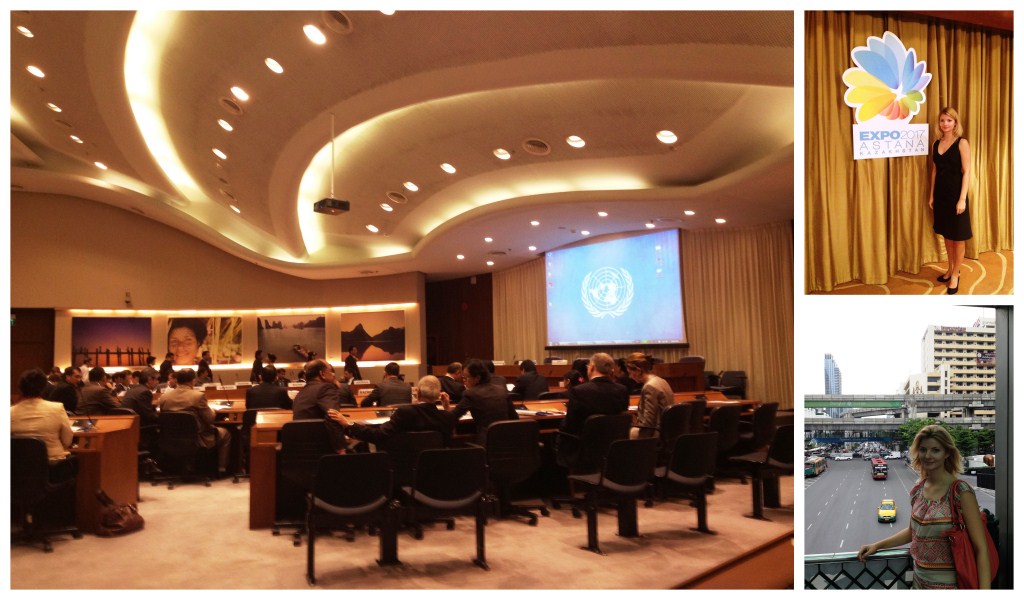 This time I  came  to Bangkok to organize and translate  meetings between the Government of Kazakhstan and the Ambassadors based in Thailand as well as for the UN ESCAP Advisory Committee of Permanent Representatives Session.
First week was spent for preparations: together with my colleague we mainly worked with the Embassy of Kazakhstan to Thailand; we found conference room for meetings, hotel for the Kazakh delegation, a place for the reception.
Next week when the main delegation arrived from Kazakhstan we started meetings with Ambassadors to ask for support of Astana candidacy to host EXPO 2017. After two days of meetings the representative of Kazakhstan delivered a speech at the Session of the Advisory Committee of the Permanent Representatives of UN ESCAP.
Once all the official meetings were over, the Embassy of Kazakhstan invited Ambassadors to the reception where video materials on EXPO 2017 Astana projects were demonstrated.  I translated during the reception as well.
The trip was very interesting as it was my first time in South-East Asia: in spite of the busy schedule I had a chance to explore the city a little bit and got to know a small part of the thai culture: people are nice and smiling, always trying to help foreigners who are a bit lost in such an exotic place.