November 5th, 2009
As a French-Russian translator in Astana I worked for one week with two French journalists Jean Marc Gresta and  Julien Monteaux,  who represented the company Science frontieres. They came to Astana  in order to make a film about Kazakhstan.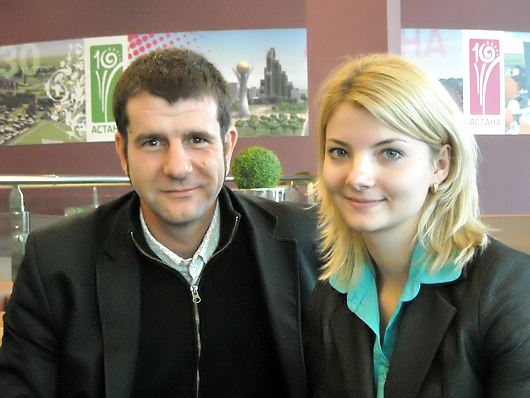 So we met in  Astana International Airport where I came to pik them up and then I helped them to find their hotel.
The main part of the work started next morning, when we met in order to get some things settled, such as to get the accreditation, to make several appointments and to confirm the date and the time of the interview. Once this has been done, we were off to the city to film some sightseeings of Astana. We worked  both on the right and left banks of Ishim river, made pictures of Presidential palace, Baiterek, Parliament, old city square, etc. We visited some museums, one of which is the first President museum.
Next day we left for Borovoe, since Jean Marc and Julien wanted to film "la nature savage"- wild nature that is.   I did the organizational part: I found a driver and  instructed him about what places we should visit. So we spent a whole day climbing on the hills and stones, filming lakes with waves and struggling with icy wind.  There was more work to do in Astana.
The biggest thing of their stay in Astana was the interview with Mr.Talgat Musabaev, the kazakhstani cosmonaut. Mr.Musabaev shared with us his experience, told us about the plans for development in the spacial industry and also sent his warmest regards to the French  cosmonauts he once worked with.  He used a lot of space related terminology and this was a challenge to me since I had to get it all correctly. In general the interview had a very positive energy and translation in such atmosphere was a pleasure for me.
We also attended some other events, such as World Touristic Organization, that took place in Astana in the beginning of October, met with different people and filmed more of Astana. I also got to translate the questions to our  President prepared by Jean Marc.
So this is how that week passed. I went to the airport again-this time to say goodbye to Jean Marc and Julien.  It's amazing how can one get used to each other over such a short period of time. That week was really hectic but full of new people, new places and new challenges.
FOLLOW-UP:
in April 2010 I was informed that the film on Kazakhstan is ready and is available on Terre TV.  They also mentioned  my name in acknowledgements in the film credits and that was a very nice surprise for me!